Description
Ashing Furnaces
.
Ashing furnaces are manufactured using high quality and heavy duty metal parts and environmental friendly insolution materials.
Fit with a selection of preceise digital contollers and certified heating elements to ensure excellent temperature stability.
Fan-assisted chimney permits to eliminate smoke from the chamber during thermal processing. Ashing process is possible with several types of furnaces:
muffel furnaces, fiber-insulated chamber furnaces and ceramic chamber furnaces. This series of furnaces is suitable for ashing and burn off process in temperature of 900 – 1300°C.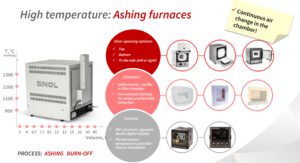 BASIC MODEL
.


■ Chamber made of vacuum-formed ceramic fiber / fiber thermal insulation plates / solid ceramic
■ Continous air change in the Chmaber
■ Door safety interlock switch
■ Non-programmable controller Omron E5C
■ Fan-assisted chimney for air extraction
■ Fast heating time due to low thermal mass construction
■ Good stability and uniformity
■ Low power consumption
■ Outside casing – metal sheet, powder painted grey
Options:
.


■ Additional ceramic hearth plates
■ Buzzer
■ Calibration of temperature measurement system
■ Data communication/USB
■ Data recorder
■ Digital timer
■ Gas box up to 1100 °C
■ Over temperature protection
■ Outside casing made of stainless steel
■ Process observation window (Ø 35 mm) up to 1100 °C
■ Protective gas injection system ( Nitrogen or Argon )
■ Metal tray
■ Table for supporting the oven
Order Informations:
Article No.
Model
Descriptions

.

Ashing Muffle Furnaces
.
All Furnaces with:
■ E5CC Controller
■ SS exterior (or powder painted, pls. specify)
■ Door: Upwards,
■ Height with chimney can be from 20mm up to 85mm, added to furnace height

.

0.245.4003

LFA 3/1100

Ashing Muffle furnace, 1100°C, 3 L, 1.7kW / 1ph

0.245.4008

LFA 8/1100

Ashing Muffle furnace, 1100°C, 8 L, 1.8kW / 1ph

0.245.4009

LFA 8/1100s

Ashing Muffle furnace, 1100°C, 8 L, Door: Sideways

0.245.4010

LFA 8/1100d

Ashing Muffle furnace, 1100°C, 8 L, Door: Downwards

0.245.4013

LFA 13/1100

Ashing Muffle furnace, 1100°C, 13 L, 1.8kW / 1ph

0.245.4022

LFA 22/1100

Ashing Muffle furnace, 1100°C, 22 L, 3.0kW / 1ph

0.245.4039

LFA 39/1100

Ashing Muffle furnace, 1100°C, 39 L, 6.0kW / 1ph

.

0.245.4006

LFA 6/1300

Ashing Muffle furnace, 1300°C, 6.7 L, Door: Sideways

0.245.4010

LFA 10/1300

Ashing Muffle furnace, 1300°C, 10 L, 2.4kW / 1ph

.

Ashing Chamber Furnaces
.

All Furnaces with:
■ E5CC Controller
■ Exterior powder painted
■ Door: Sideways
■ Height with chimney can be from 20mm up to 85mm, added to furnace height

.

0.245.4030

LFA 30/1100

Chamber Ashing furnace, 1100°C, 30 L, 3.4kW / 1ph

0.245.4040

LFA 40/1200

Chamber Ashing furnace, 1200°C, 40 L, 3.4kW / 1ph

0.245.4045

LFA 45/1200

Chamber Ashing furnace, 1200°C, 45 L, 4.6kW / 1ph

0.245.4031

LFA 30/1300

Chamber Ashing furnace, 1300°C, 30 L, 4.6kW / 1ph

.

Ashing Ceramic Chamber Furnaces
.

All Furnaces with:
■ E5CC Controller
■ SS exterior (or powder painted, pls. specify)
■ Door: Sideways
■ Height with chimney can be from 20mm up to 85mm, added to furnace height

.

0.245.4104

LFA 4/900

Ceramic Ashing furnace,   900°C, 4 L, 3,7kW / 1ph

0.245.4105

LFA 4/1100

Ceramic Ashing furnace, 1100°C, 4 L, 3,7kW / 1ph

0.245.4106

LFA 4/1200

Ceramic Ashing furnace, 1200°C, 4 L, 3,7kW / 1ph

0.245.4107

LFA 4/1300

Ceramic Ashing furnace, 1300°C, 4 L, 3,7kW / 1ph

.

0.245.4108

LFA 7/900

Ceramic Ashing furnace,     900°C, 7.2 L, 3,3kW / 1ph

0.245.4109

LFA 7/1100

Ceramic Ashing furnace, 1100°C, 7.2 L, 3,3kW / 1ph

0.245.4110

LFA 7/1200

Ceramic Ashing furnace, 1200°C, 7.2 L, 3,5kW / 1ph

0.245.4111

LFA 7/1300

Ceramic Ashing furnace, 1300°C, 7.2 L, 3,5kW / 1ph

.

0.245.4112

LFA 12/900

Ceramic Ashing furnace,   900°C, 12 L, 4.5kW / 1ph

0.245.4113

LFA 12/1100

Ceramic Ashing furnace, 1100°C, 12 L, 4.5kW / 1ph

0.245.4114

LFA 12/1200

Ceramic Ashing furnace, 1200°C, 12 L, 4.5kW / 1ph

0.245.4115

LFA 12/1300

Ceramic Ashing furnace, 1300°C, 12 L, 4.5kW / 1ph

.

0.245.4116

LFA 15/900

Ceramic Ashing furnace,     900°C, 15 L, 6.0kW / 1ph

0.245.4117

LFA 15/1100

Ceramic Ashing furnace, 1100°C, 15 L, 6.0kW / 1ph

0.245.4118

LFA 15/1200

Ceramic Ashing furnace, 1200°C, 15 L, 6.0kW / 1ph

0.245.4119

LFA 15/1300

Ceramic Ashing furnace, 1300°C, 15 L, 6.0kW / 1ph

.

Accessories
On request