Description
Chamber furnaces with fiber-insulated chamber
.
LF -series is manufactured using high quality and heavy duty metal parts and environmental friendly insolution materials.
Fit with a selection of preceise digital contollers and certified heating elements to ensure excellent temperature stability.
The furnaces include ceramic hearth plates. To eliminate gases or smoke that are released during thermal processing a ventilation
hole and exhaust system may be additionally installed in the product.  The furnaces are an excellent for scientific laboratories,
educational institutions, medicine and industry, to be used for hardening, loosening, normalising and other thermal processing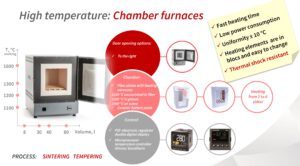 BASIC MODEL
.


■ One piece high thermal efficiency, vacuum-formed ceramic fiber chamber
■ Outside casing – metal sheet, powder painted grey
■ Ceramic bottom plate
■ Door opens upwards
■ Door safety interlock switch
■ Non-programmable controller Omron E5CC
■ Fast heating time due to low thermal mass construction
■ Good stability and uniformity
■ Heating elements, embedded in a vacuum formed fiber, are inside four walls of the chamber on models up to 1100°C
■ Heating elements are exposed on ciramic tubes on two sides of chamber on models up to 1300°C
■ Low power consumption
Options:
.


■ Additional ceramic hearth plates
■ Buzzer
■ Calibration of temperature measurement system
■ Data communication/USB
■ Data recorder
■ Digital timer
■ Fan-assisted chimney for air extraction
■ Gas box up to 1100 °C
■ Over temperature protection
■ Outside casing made of stainless steel
■ Process observation window (Ø 35 mm) up to 1100 °C
■ Protective gas injection system ( Nitrogen or Argon )
■ Metal tray
■ Table for supporting the furnace
Order Informations:
Article No.
Model
Descriptions

.

All Furnaces with:


■ E5CC Controller,




■ Exterior: powder painted




■ Door: sideways

.

0.245.2030

LF 30/1100

Chamber furnace, 1100°C, 30 L, 3.4kW / 1ph

0.245.2080

LF 80/1100

Chamber furnace, 1100°C, 80 L, 5.4kW / 1ph /

0.245.2040

LF 40/1200

Chamber furnace, 1200°C, 40 L, 3.4kW / 1ph

0.245.2045

LF 45/1200

Chamber furnace, 1200°C, 45 L, 4.6kW / 1ph

0.245.2031

LF 30/1300

Chamber furnace, 1300°C, 30 L, 4.6kW / 1ph

 .
Accessories
On request

.

 
 

.

.